That is the messsage, Shyamala Rajaram of UniMity had for Drupalers attending the session on contributions at DrupalCon Asia. She acknowledged the growth in contributions from India, and encouraged the audience to aspire to not just increase the number of contributions from India, but also improve in terms of the quality of contributions. "We should be among the top 10 Drupal contributors," she said.
Shyamala introduced the principles of engagement of the Drupal the open source community as Collaboration, Globalism and Innovation. Anyone can contribute to Drupal - developers, business users, designers, testers, project managers.
She talked about how to give back. You can post questions and issue queues. You can write code, contribute patches and modules. You can also contribute to Drupal 8, Drupal core, and help with porting contributed modules to Drupal 8.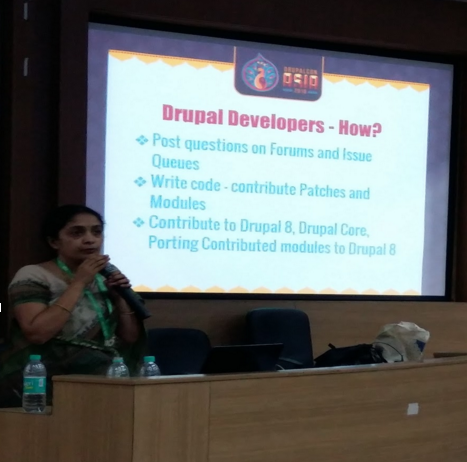 While working with a new module, going back to the community and saying that it works, is also a form of contribution, she said. If you work with some existing documentation, and you don't find it easy to understand, you can go back and change it and make it easier for others to follow it.
You only have to keep the thought in mind, "How can I give back to this new thing I have learnt?", she said. She encouraged the audience to explore Drupal Office hours when the core team members are available to answer questions and guide you with any issues you might be facing with Drupal.
Shyamala also encouraged people to be part of meetups and sprints. "There is nothing like being hands-on with people. Meet others and try to solve some of these Drupal mysteries."
She talked about her contributions to Drupal 8, about creating a list of issues related to making Drupal publishing being responsive. "It just took me about two days of work to create that list. but it was acknowledged and appreciated by many people in the community. In fact, that list was used in various camps to get people onboarded to D8," she said.
She also spoke about common challenges Drupalers have while conributing to the community. "People have inhibitions to participate in the community. What would anyone think if I do something wrong, or ask a trivial question? But no one is judgemental in this community. Even it it sounds trivial, ask your queries."
Shyamala asked the audience to consistently spend 2-3 hours per week on contribution. She gave examples of various people from different organizations in India who have contributed significantly to Drupal. Some of them contribute as they work, while some others contribute over the weekends. Such an effort builds up over time and then you start seeing the benefits, she said.
And what are these benefits? You get recognition, to begin with, and so does your organization. You get exposed to technology and the latest trends. You get a great understanding of Drupal coding standards. You have access to a global developer community. You get to network with like minded people. And most of all, you derive personal satisfaction, she said.