DrupalCons are always the highlight of the year for any Drupaler, especially when it's your first! And so I wanted to put together my thoughts and learnings from DrupalCon Vienna.
Here we go!
Our team of four from Srijan landed at Vienna right on time to join in on all the excitement. We obviously spent some time setting up our booth and chatting up Drupalers from across the globe. That's always one of the best parts of DrupalCon, the interactions you have and the learnings you find in unexpected conversations.
Some booth shenanigans! Now at the #DriesNote, cheering on the exciting possibilities with #Drupal. pic.twitter.com/7cb1rNAikC

— SRIJAN (@Srijan) September 26, 2017
The DriesNote
The first day of Con is always about the DriesNote. Dries' State of Drupal address is looked forward to by the entire community as a marker of where Drupal is headed. It helps us see the big picture and gives a scope of the tremendous possibilities of the technology that we work with every day.
Some of the highlights from Dries' keynote were:
The growing adoption of Drupal 8 with 38% of Drupal business projects choosing D8
Drupal agencies overall are doing better business with an improved sales pipeline and larger projects
A 2x increase in the number of stable Drupal 8 project, over a single year, due to a mature and involved contribution ecosystem
Agencies are increasingly pairing up Drupal with other open-source technologies to deliver better digital experiences for their clients
While Drupal is now better equipped to deliver enterprise-grade solutions, the vast majority of non-enterprise Drupal projects can also leverage the "rich" online experiences made possible with Drupal
The Sessions
The DrupalCon sessions are the best place learn new skills and also share your expertise. This time around, Srijan had the opportunity to present three sessions at DC Vienna.
Evolution of Digital and Retail stores leveraging Drupal by Shashank Merothiya
Shashank spoke about the next level of integrated user engagement at digital and retail stores. He shared learning from one of our on-going projects to illustrate how Drupal 8 is being leveraged as a single, omnichannel content management system, providing configurable, multi-site, template-driven user experience.
Tunneling Its Way Fast with BigPipe by Jyoti Singh
I talked about performance optimization using the BigPipe module. BigPipe is a browser rendering system created by Facebook that breaks the web pages into logical sections of content, called Pagelets, and pipeline the generation and rendering of these Pagelets.
Demystifying Dependency Injection and Services in Drupal 8 by Jyoti Singh
This session was about using Object Oriented Programming in Drupal 8 for code reuse and encapsulation, allowing users to build better maintainable applications with structured codes.
.@jyoti2911's session on #Drupal #DependencyInjection garnering some interesting questions and responses! #DrupalConVienna pic.twitter.com/qzRKY3gPA2

— SRIJAN (@Srijan) September 27, 2017
The sessions were a huge opportunity for me to interact with other Drupalers, answer queries, and explore new perspectives on the topics that I shared.
We also made it a point to attend other interesting sessions at the Con around project management, DevOps, enhanced D8 modules and more.
Srijan's Yogendra Prasad was also a mentor at the day-long code sprints at Vienna. He mentored the Novice code sprints, assisting new Drupalers in understanding the contribution process and helping them join the online Drupal community.

Fun
What's DrupalCon without the fun! There was, of course, the different booth goodies and games by the various Drupal teams. Tons of cools stickers, t-shirts, and even tattoos. But the best was the ball pit by Digitalist.
#DrupalCon #digitalist #digitalistgroup #ballpit pic.twitter.com/ALsDdfJWJr

— Pontus Nilsson (@pontusnilsson) September 26, 2017
The Trivia night was another eagerly awaited event at the Con. With rounds of interesting quizzes and great team spirit on display, the show was a blockbuster. It was my first trivia night and a great opportunity for the Srijan team to mingle, socialize and have a little competitive fun.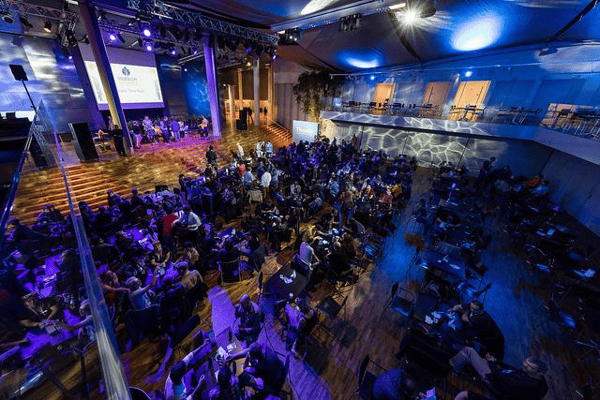 The closing ceremony for Drupalcon was interesting as we were looking forward to seeing the attendee-count and the announcement for the upcoming Drupal events around the world.
We also made it a point to set aside an afternoon to catch up on some sight-seeing around Vienna.
As always, DrupalCon Vienna was a huge learning experience wrapped in loads of fun. And it has got me seriously excited about the kind of innovative solutions we can deliver with our Drupal Services.