DrupalCons have always been about growth: how to grow Drupal so it can empower more businesses, and how to grow the community. And 2018's first DrupalCon at Nashville was no different.
As per tradition, the DriesNote was the highlight of the event, showcasing where we are headed with Drupal, what we wish to achieve, and how we plan to get there.
According to our research, in order to further grow #Drupal8 adoption we need to focus on 4 key areas #DriesNote pic.twitter.com/q1eD8zeeCL

— DrupalCon Nashville (@DrupalConNA) April 10, 2018
A few aspects that stood out for me:
The sheer growth of Drupal 8 over the past few years
Releasing in November 2015, Drupal 8 was a whole new beast. It was focussed at enterprises, it brought in ease-of-use, put together some really powerful features, and aimed for "ambitious digital experience". Between then and now, with several new versions, Drupal 8 has delivered on that promise and how. Dries' keynote pointed that currently Drupal 8 drives 240,000 websites, and has a 81% year-on-year growth in stable projects.
Over 240,000 websites are now powered by #Drupal8 - a 51% growth in the last year #DriesNote pic.twitter.com/H9sXIbIR5x

— DrupalCon Nashville (@DrupalConNA) April 10, 2018
#Drupal8 is sustaining 81% year on year growth in number of stable projects. That is 1860 stable projects and a further 5076 currently under development @Dries #DriesNote pic.twitter.com/AxIkONPwHQ

— DrupalCon Nashville (@DrupalConNA) April 10, 2018
Improving Drupal for the consumers
A large part of the DriesNote focussed on how to improve the Drupal experience for the end users.
The push towards enhancing the content creator experience comes as a welcome move. As someone who regularly interacts with Drupal end-users, a simplified content creating process would go a long way in increasing Drupal's adoption rates among businesses.
"For content creators the first 2 items were critical for almost everyone we interviewed, that's great because we are working on the right things" .. "but we want to make Drupal even more compelling, we need to support more real life workflows" @Dries pic.twitter.com/I0jetUDLGn

— DrupalCon Nashville (@DrupalConNA) April 10, 2018
Another key initiative was the focus on raising awareness about Drupal among non-technical users. Again, as someone who is in constant dialogue with enterprises working on digital transformation, I know that decision-makers here are largely non-technical folks who may or may not have heard of Drupal. Any help in making it easier to pitch Drupal to non-technical stakeholders would go a long way in making it a top choice for enterprise systems.
"non-technical evaluators have become far are more influential in selecting CMS solutions" ... "This became increasingly clear when interviewing owners of Drupal agencies" ... "We need to start working together to serve these audiences better" @Dries #DriesNote pic.twitter.com/YLuZqsX782

— DrupalCon Nashville (@DrupalConNA) April 10, 2018
There was also talk about taking a more targeted approach, where community events, Drupal agencies, and hosting companies all work together to promote Drupal in the marketplace.
Improving Drupal for Drupalers
Apart from this, there's also a push towards improving technical evaluation and documentation processes. That would be great for everyone already working on Drupal, as well as those teams that are just starting off.
In the same spirit, we had Srijan's Kapil Kataria share a session on "Integrating Drupal Coding Standards with Githooks". His talk centered using hooks to evaluate code at the pre-commit, pre-receive,and post-receive stages.
Most importantly, Dries launched the Values and Principles initiative, that focus on taking the community's founding principles from a word-of-mouth version to a universally accepted, written version. As with all things Drupal, the process is democratic and the floor is open for discussion and contribution to improve upon these values.
Defining values is an extremely important aspect of a community! Glad it's out there and nothing left on imagination at #DriesNote @DrupalConNA pic.twitter.com/75Ul69YaoA

— Gaurav Mishra (@gmishra) April 10, 2018
Besides the DriesNote, the Srijan team at DrupalCon Nashville, with Ishan Mahajan, Ashish Goyal, Pavan Keshavmurthy, Ashwini Kumar, Kapil Kataria, and Manuj Varshney, had a great time discussing Drupal innovations and the larger technology landscape with the business stakeholders at the event.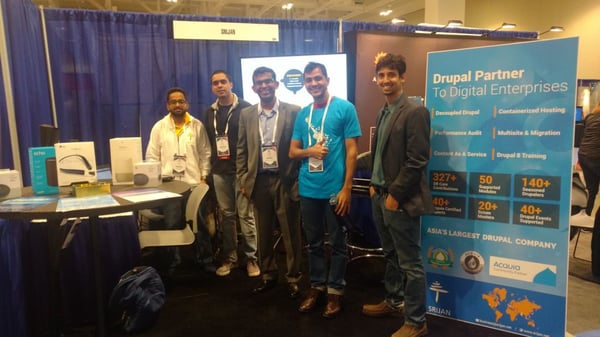 Once you get talking, you realize that there are a lot of positive changes and diverse range of opportunities to be leveraged with Drupal.
The DrupalCons are also about fun giveaways by participating companies, and this year, we had a few of our own. We had an exciting contest at our booth where participants had to chat with Alexa to win some cool prizes: Amazon Echo, Google Home Mini, and LG Tone Pro headphones.
Over the three days, our lucky winners were:
Jon Bauer, The Nerdery
Brian from Major League Soccer
Ezra from DLC Solutions
Sarah Wall, ImageX Media
So that's it from DrupalCon Nashville. Now it's time to get back to work, and see how these proposed changes and improvements materialize to make Drupal more appealing to businesses.
And given that Drupal 8 is moving from strength to strength, you might want to take a look a migrating to Drupal 8. Drop us a line and lets discuss how we can make that happen.