After its successful debut in 2017, this is the fifth consecutive year that this conference is happening to bring together a community of architects, developers, and business people for evaluating the future of CMS, headless CMS architectures, and decoupled CMS.
Scheduled for July 14 & 15, 2021, it will be held on a virtual platform, Hopin.
Srijan is thrilled to showcase its award-winning Drupal distribution, EzContent, which offers decoupled architecture for building modern JAMstack web applications. Enterprises can leverage it to improve their content authoring experiences for decoupled Drupal implementations.
Decoupled Days is the only non-profit headless CMS conference that allows attendees to engage, connect with people, and share their experiences. A wide range of topics are covered in this conference - ranging from back-end development of headless CMSs as a content service to front-end development of consumer-based applications for consuming CMS content, especially those in JavaScript and more.
The event will also offer attendees the opportunity to identify and discuss the problems in headless CMS & CMS-backed front ends to gather insights & eliminate the barriers in the way to progress, both open-source and closed-source.
Tracks
Here are the four tracks, which are planned as parallel sessions-
The Traditional CMS track will talk about Drupal & WordPress use as a content service & the type of architectures in their decoupled & headless forms respectively.
The Headless CMS track will revolve around decoupled & headless CMS technologies.
The JavaScript & JAMstack track will lead to discussions around modern JavaScript and its use in decoupled CMS architectures.
The People & Community track will cover the personal & community-related issues around inclusion, accessibility, mental health, apart from decoupled CMS. Additionally, there are some other topics for discussions around health & well-being, personal and professional, growth, empathy & communication.
Srijanites' Sessions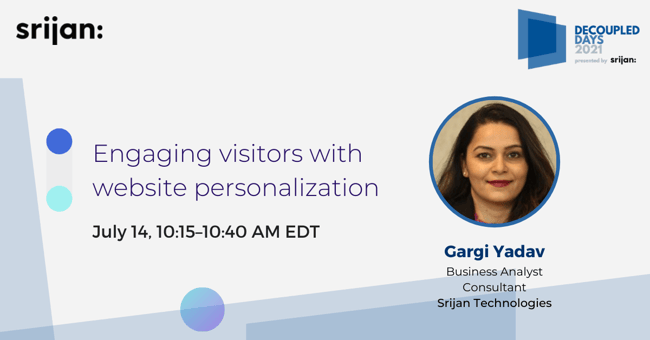 Speaker: Gargi Yadav |
Wednesday, July 14 @10:15am ET in Room Centarro
This session will take you through the core principles of personalization - how you can discover the audience to deliver them the best-in digital experiences and running effective marketing campaigns.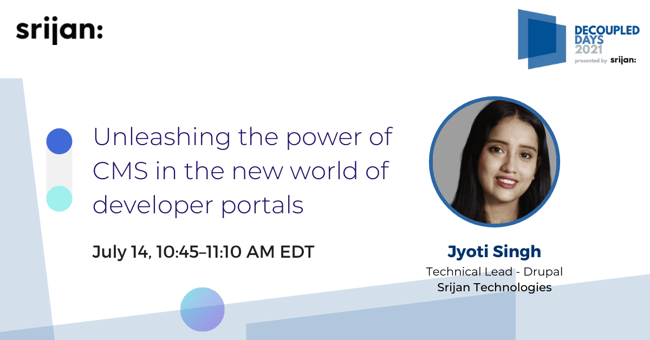 Speaker: Jyoti Singh |
Wednesday, July 14 at 10.45 am ET in Room Therefore
The session will let you experience the process of building a developer portal & turning it into an accelerator program to provide an API platform-agnostic developer experience. Attendees can expect a demo of an organization-based multi-tenant API portal that is capable of managing APIs effectively.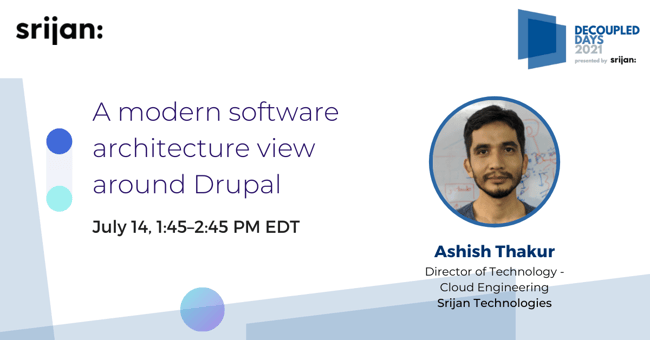 Speaker: Ashish Thakur | Wednesday, July 14 @1:45 pm ET in Room Centarro
This session will provide perspective about the modern software architecture view around Drupal to address the following concerns-
Difficulty in scaling modules & subsystems independent of each other

Difficulty in implementing high velocity, high throughput, and low latency concerns.

Lack of well-defined integration architecture
A demo on the same followed by the solutions would make this an informative session for all the attendees.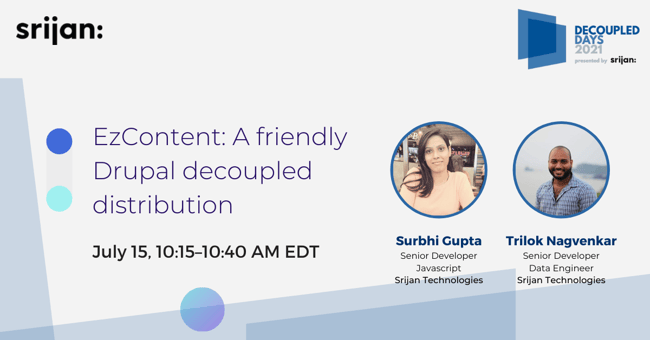 Speaker: Surbhi Gupta, Trilok | Thursday, July 15 @10:15 am ET in Room Contentful
This session will give you a demo of our in-house product, EzContent, and how it can meet the growing demands of developers for modern JavaScript technologies like Next.js, Nuxt.js, and Angular. The session will also cover some of the other critical technical aspects of the project-
Enablement of better administration for decoupled Drupal implementations.

Preview of unpublished content in decoupled frontends

Use of Drupal's layout builder to create landing pages and view them in decoupled frontends.
Slated for July 14th & 15th, 2021, the virtual event will witness some path-breaking addresses around the future of CMS, headless CMS, decoupled CMS, and more. It will be a one-of-a-kind experience that will help you step up your game around CMS, whether you use it as a content management service or as any other non-CMS application.
About Srijan
Srijan is a global engineering firm that builds transformative digital paths to better futures for Fortune 500 enterprises to nonprofits across the world. The company has championed open-source technologies over the last two decades, bringing advanced engineering capabilities and agile practices to some of the biggest names across Media, BFSI, FMCG, Aviation, Telecom, Technology, and others. Srijan leads in Drupal with 300+ Drupal engineers, 75+ Acquia certified Drupal developers and is amongst the 4th globally. With preferred partnerships with Acquia, advanced consulting partners with AWS, Google Apigee, and services relationship with VMWare, Srijan offers the best technology stack in the market.