We, at Srijan, are proud to announce that we have been certified as a Great Place to Work® (GPTW) for the sixth time in a row.
The organizations, which provide outstanding employee experiences and follow the best people practices are certified by the Great Place to Work (GPTW). The assessment entails the GPTW® Model© that analyzes a workplace on Trust Index© and Culture Audit© traits.
Srijan's work culture involves adhering to a people-first approach. This defines our purpose and motto - Happy People, Great Work. The GPTW feedback assessment system helps us deep-dive and get meaningful insights that we use to consistently remodel our policies and keep up a healthy collaborative work environment.
For the past six years, Srijan has been winning this award consecutively with more than 70% of its employees rating it as a great workplace for upholding best of people practices.
The GPTW certification recognizes Srijan's dedication and exemplary efforts in maintaining credibility, respect, care, and support towards employees involving their physical, emotional, mental, and financial health. It also illustrates our inclusive practices and policies that ensure fair treatment of Srijanites irrespective of their job role, gender, race/ethnicity, and other aspects. We strive to provide a collaborative workplace that fosters growth for all. The year-on-year growth of the trust index testifies it.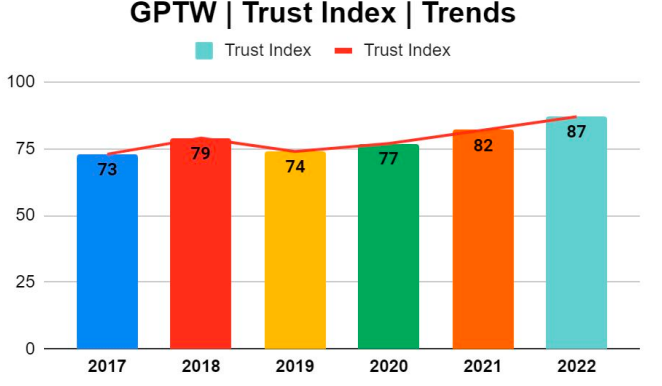 Elated and motivated to enhance our culture further, our cultural torchbearer, our CHRO Sumeet Gupta said "Building an agile and adaptable ecosystem that promotes growth and learning is an integral part of our cultural fabric. That's why we empowered Srijan's open culture with essential qualities that define our values of being authentic, responsible, vulnerable, long-term and being a Guru. This culture nurtures every Srijanite to discover, develop and evolve themselves. We thank GPTW for this recognition and are thrilled to be certified for six years in a row. We hope to continue being an 'Employer of choice for the ambitious creators and developers of the industry with constant commitment to promote a workplace of credibility, respect, fairness, pride, and camaraderie"
About GPTW
Great Place to Work® is the global authority on workplace culture. Since 1992, they have surveyed more than 100 million employees worldwide and used those deep insights to define what makes a great workplace: trust. Their employee survey platform empowers leaders with the feedback, real-time reporting, and insights they need to make strategic people decisions. The Institute serves businesses, non-profits, and government agencies in more than 60 countries and has conducted pioneering research on the characteristics of great workplaces for over three decades.
About Srijan
Srijan is a global engineering firm that builds transformative digital paths toward a bold new better future for Fortune 500 enterprises and nonprofits worldwide. We have championed open-source technologies over the last two decades, bringing advanced engineering capabilities and agile practices to some of the biggest names across the FMCG, Logistics, Telecom, Technology, and other industries.
We lead in Drupal with 400+ Drupal engineers and 80+ Acquia-certified Drupal developers and are among the top 4 Drupal companies globally. We are an Acquia Preferred Partner, Acquia Cohesion Partners, and Apigee Consulting Partner.